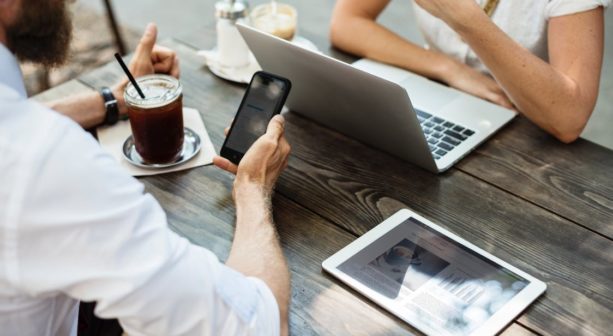 As companies expand and access to data gets easier, remote work or "teleworking" is becoming more common. Remote work allows businesses to have the flexibility to hire people across several locations and reduce their office and rent costs. Technology can make remote work easier and a success for your business. Learn about the 5 best tech solutions for remote work.  
What Is Teleworking? 
As more technology was introduced into the workforce, companies realized they could let their employees work from home which allowed for more flex-time and shorter commute times. This has resulted in happier employees and reduced expenses.
Teleworking is a new model or format that workplaces are implementing. Workplaces that implement teleworking let their employees work from home or any location that is not the office. Remote workers use technology to collaborate with other employees. The technology used to stay connected with coworkers can be cell phones, laptops, tablets, emails, web conferencing software, shared drives etc.
Some companies are built around 100% of their employees working remotely. Other companies use a hybrid model and require employees show up for one or two office days and the rest of the week employees work remotely. Small companies and business owners are combining office work with remote work to propel the success of their business. It is often ideal for startups when they need to cut costs. It is also a great option for business owners who have to travel a lot.  
How Can Technology Make Remote Work Easier?
While there are several benefits to remote work, it can negatively affect collaboration and productivity. Employees may not collaborate with their coworkers as well if they have to pick up a phone rather than if their coworker were physically in the same office. Technology can improve collaboration between employees when remote work is involved. Finding the right solutions can make remote work successful for your business. 
Chat Apps Are Fostering Team Collaboration
A lot of work is becoming team-based. While this can be problematic for remote work, applications that allow teams to chat from their phone or other devices are making it easier to collaborate remotely. Team-based chat apps like Cisco Spark,  are more efficient than email. Lengthy conversations between several employees can be lost in email threads. It is easier to communicate through an app which eliminates the timely formalities that are associated with email. Additionally, many of these apps have a native document sharing feature.
Real-Time Document Sharing
Document sharing solutions that allow users to collaborate, edit and revise documents in real-time help to foster productivity. Real-time collaboration while teleworking mimics the way employees would work on a project while they are physically together. Thoughts or ideas can get lost as team members work on a project from different locations. Solutions like Google Docs or Microsoft 365 offer real-time document sharing. Real-time document sharing combined with team-based chat apps help to foster collaboration and innovation even while working remotely.  
Video Conferencing Tools
Companies can use video conferencing for team meetings or meetings with prospects. It can be used as a way for supervisors or managers to keep track of their remote workers. Another popular use of the technology is to host webinars. Employees can gain further training by partaking in company webinars or webinars that are offered by professionals in their industry. Webinars eliminate any travel time or travel expenses compared to a live conference.
Cisco Systems offers a video conferencing tool that allows you to see what others are working on. It has an option for screen sharing and collaborative whiteboarding. The technology is great for meetings, collaboration, or teams using it to complete a project. This technology can be used while working from home, between satellite offices or while travelling. It allows you to stay connected to your team no matter where you are.  
Enterprise Platforms 
Enterprise platforms can help keep your business organized when the majority of your employees work remotely. There are several enterprise solutions to choose from so be sure to prioritize what your business needs and research potential platforms that could work. Enterprise platforms range from databases to project management tools that are targeted towards helping small to medium-sized businesses. Solutions can be web-based or software that is installed onto devices.  
Security Solutions Protect Remote Workers
Working remotely brings up concerns about security. There are many IT security solutions that can help keep your business protected while working remotely. Your company should implement VPN's and firewalls for remote workers. Companies may want to limit the type of data that remote workers can access outside of the office. It is difficult to control everything that remote employees are working on so keep confidential projects and data limited to the office. 
Learn more about how Keystone Technologies can make teleworking more efficient and secure.